Ding 10 lol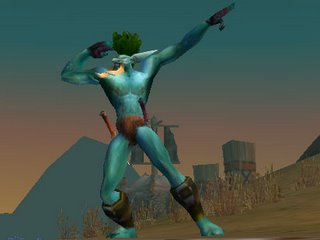 So I've finally made it to level 10. I can finally dual wield, I can sprint, I have talents, life is good. Things 2 levels above me are now less of a threat, although that really isn't saying much. I have to pick my battles; more mobs = bad. Now all I need are some decent greens to keep my armor up and my attacks on the painful side. I haven't really noticed much of a need for stats at this point, but, as it is, level 10 doesnt offer much in the way of uber stats. Anywho, I have arrived in The Barrens, and I now call Crossroads home. Hopefully I can either build up enough self-reserve to grind for xp, otherwise I'll be stuck with quests that bounce me all over the place. Whoo Barrens.
Notes:
-Getting to lvl 10 was a pain, just because of travel times. That walk between Org and RH is a royal pain in the ass.
-I NEED another dagger. Skinning knives just don't cut it.
-I actually wore the starting boots all the way to lvl 10. Impressive, no? Didn't think so.
-Next post at level 15. Ish.